Pages by Peretti . . .
Beautiful Pages Are the Specialty Here —

Fresh watercolors of nature subjects

New oil with cold wax medium, an encaustic version


Original acrylic paintings on canvas


Poetry pages: publication references, and books available

Art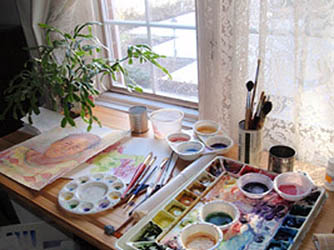 Marilyn is an artist, exhibiting nature watercolors, block prints, and ink drawings at The Morton Arboretum in Lisle, Illinois, with the Nature Artists' Guild from 1992 to 2018, as well as other venues during those years. Paleontological art is another subject of her paintings. As seen above, cranes have become a special interest; she exhibited 38 pieces at the International Crane Foundation in Wisconsin, 2005. In 2007 she was "featured artist" at the fall exhibit of the Nature Artists' Guild, showing 22 paintings. In 2016 she had solo show of 7 nature watercolors at the Oak Park Conservatory, Oak Park, IL. Click on watercolors here to see a list of her exhibit venues. Acrylics on canvas are a current medium, including landscapes, portraits and anti-war paintings. Oil and cold wax is a contemporary rendition of encaustic technique. View samples of the wide varities of mediums she uses.


In 2022 Marilyn opened a page on Online Gallery www.onlinegallery.art At this site one can find many paintings grouped in "Series", with descriptions, sizes and prices. While she has gifted many painting and sold many, this is the main body of her remaining paintings, which are available for sale. Prices shown there include tax, packing and shipping.
Writing
She is a published and award winning poet, with experience in journalistic writing. She has designed and edited newsletters for six nonprofit organizations. The poetry page lists the book, Let Wings Take You, for purchase; also other publications and awards.

Poems of tragedies in Haiti and Japan express human strength and dignity. See this book, and order at www.blurb.com

Samples of her poetry can also be seen on her poetry blog: Peretti Poems Take a look at the calm blue setting of insights and fun in her creative poems.
Publishing
Marilyn Peretti has also published her own poetry chapbooks and mini-books under the name Splendid Press The poetry page here lists the book, Let Wings Take You, for purchase. Some books include her ink illustrations. Most have been private editions and given to friends. To Remember, to Hope, poems of the Japanese tsunami sorrow, and the devastating earthquake in Haiti. Lichen, Poems of Nature, reflects her passion for the outdoors and its influence. In 2020-2021 she published a small book of poems focused on the Covid pandemic lockdown. Two artbooks are also available at www.blurb.com
Websites
After 8 years in creative web design work, Marilyn Peretti has discontinued this acitivity. This website now features her artwork and poetry only. Please read on. She will be happy to consult with you about a web page design, it's eye appeal, text editing and necessary ingredients for success.

Beautiful Pages