________________________________________________________________________ ________________________


AWARDS:
First Prize for poem Coming Apart,
by Current Literary Competiton, 2000, Ann Arbor, Michigan

Second Prize for poem New Places,
by The Conference on Aging, 2003, Chicago, Illinois

Awarded prizes for numerous poems by Poets and Patrons of Chicago, Illinois.

Seven Wonders of the Poetry World, 2006. Book, Let Wings Take You selected for this recognition by www.ChicagoPoetry.com

First Prize for poem Divestiture, by The Labyrinth Society, 2006.

Awarded Honorable Mention for Pads People, by Metro Dallas Homeless Alliance, 2009.

Nominated by Chicago Poetry.com for PUSHCART POETRY PRIZE, 2010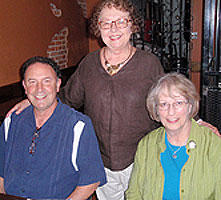 Peretti awarded First Prize for poem, Graffiti in Tunisia: Merci Facebook,
by Current Literary Competiton, 2011, Ann Arbor, Michigan . . . . . . . . . . . . photo >
Third Prize for poem, At Sitka,
by Current Literary Competition, 2012, Ann Arbor, Michigan.
First Prize for poem, Are You Abdullah?, in category "Hope"
by Illinois State Poetry Society, 2015

PUBLISHED:
Past poems published in: California Quarterly, Christian Science Monitor, Black Bear Review, Rockford Review, Urban Spaghetti, Seeding the Snow, The Bugle (Int'l Crane Foundation), Our Developing World's Voices, Luke Lookout, Prairie Light Review, Parnassus Literary Journal, CURRENT of Ann Arbor, The Leaflet, (Nature Artists' Guild of The Morton Arboretum), www.poetrysky.com (Chinese translations), Talking River Review, Arts Beat magazine, www.seastories.org by Blue Ocean Institute, 2005 anthology Beyond Katrina, the 2006 anthology on endangered species, The Dire Elegies, program of Breast Cancer Connections (Palo Alto, CA), CRAM 2, CRAM 3, CRAM 4, CRAM 6, CRAM 8, CRAM 10 (Chicagopoetry.com Press; name changed 2012 to Jrnl of Modern Poetry), Journal of Modern Poetry, 2013; Kane County Chronicle's Poetry Pages, 2008; Talking River, 2009; The Deronda Review, 2010; posted in Highland Park/Evanston busses, January, 2010; online 2013, 2016; Fox Cry Review (U.Wis), 2012; seven poems in The Ultimate Chicago Poetry Anthology, 2012; Kyoto Journal #77, 2012 (pgs 102 & 105); Tipton Poetry Review, Fall, 2014; Fukishima: Words Fly Away, 2014; New Verse News - www.newversenews.com (8 poems), 2015, 2016; Wilda Morris Poetry Challenge, 2015, 2018 Li Poetry, Chinese bi-monthly poetry journal, Winter 2016; Grey Sparrow Journal (online), 2017; Snowy Egret, Spring/Autumn 2017(issued 2018).
Peretti designed and edited Choclate Covered, a brief chapbook of poems by active members of the Arbor Hill Gang of Chicago's western suburbs, 2010
Mini Japanese Fold books, with 5 poems each, 2010: Poems for You; 2011: Girlfriends Again; Little Gardens;2015: Always
To Remember, To Hope, 2012 chapbook of poems reflecting thoughts on Japan and Haiti. Buy at www.blurb.com
Lichen, poems of nature, 2013 collections of 35 poems reflecting nature. Buy at www.blurb.com
Angel's Wings, 2015, poems on the mysterious organisms: mushrooms. Buy at www.blurb.com
Rehab Poems, 2016, short collections of poems written while in Rehabilitation
Veronika, in Poetry for Ukraine, anthology from U.K., 2022; First Days of War in Ukraine, Highland Park Poetry (online)
Fourteen poems published on New Verse News (online), two of them on the Ukraine war in 2022:>Socks, and What In God's Name?